Features

User-friendly functionalities
One exam software for all your tests and exams is suitable for all classes from math tests online to quizzes in one place. Institutes can use this software for staff pre-hiring, teacher evaluation, or student admission tests as well

Centralized administration portal
Bonsai provides a centralized dashboard to manage all the tests quizzes and assessments. You can create profiles for multiple profiles that to based on designation such as students, teachers admins etc. main admin will get to assign responsibilities to each profile.

User-friendly functionalities
create online tests using multiple functionalities, create math tests online by adding diagrams, equations, MCQs, image type, maths type, and chemistry equation questions easily. You can create mock tests, to give first-hand experience on the exam software. We can Upload questions and papers in Word format and students can take tests anywhere in the world

Flexible to work online & offline on test results and insights
Upload the offline test result in Excel to the Exam Assessment platform and get a detailed analysis for both online and offline test takers. It can give you reports after completing each test immediately. Get an examination to assist you in comprehending the ideas you're having trouble with and offer advice on how to make them better.

Adaptive testing algorithm with all device support
As mobile device consumers are increasing we support all devices, you can use any device, whether it be a mobile, desktop, or tablet, for taking tests but the platform works smoothly and flexibly By providing study materials in the form of reading content and video sharing, you can improve your students' understanding.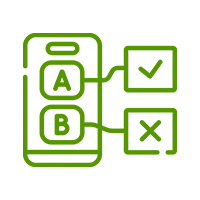 Adaptive Testing Methodology
Adaptive Testing Method will help you ensure that student results test result are an accurate reflection of the student's knowledge, An adaptive scoring system examines each response provided by the students and calculates the appropriate level of difficulty for a question. You can upload study materials in the form of reading content and video sharing, you can improve your students' understanding.
Who Use
Bonsai

Administrations
Create tests or comprehensive exams for your students. Share tests with the public or particular students you will get customizable options.
The auto-grading facility will save time and help to concentrate on other work.

University
Online training and assessment tests will ensure staff will get up to date with technology and the right skills.
The reporting and analyses allow you to track participation and progress.

Students
It will be very helpful to write as more people E-learning is growing more, you get complete privacy toward your results.
It will help in competitive exams and you will get a detailed review of your results.
Why choose
Bonsai?
Online learners are increasing day by day and educational institutes are switching their learning system to online which means the assessment system also goes to remote. For each education institute Creating one online assessment test and maintaining is challenging Time-consuming and it will take a lot of resources such as hiring a software development team and testing team to check and fix the bugs. But now schools/ colleges don't have to worry about creating online testing from scratch they can create tests themself from drag and drop feature without any developer support.
The Bonsai support team can guide you in creating quiz-making and creating exams and automating your exam process online. Bonsai will provide sophisticated user-friendly online tests for our customers to help automate their examination process completely. This application creates profile pages for each member of each faculty there will be different profiles to check student activities.